BLOG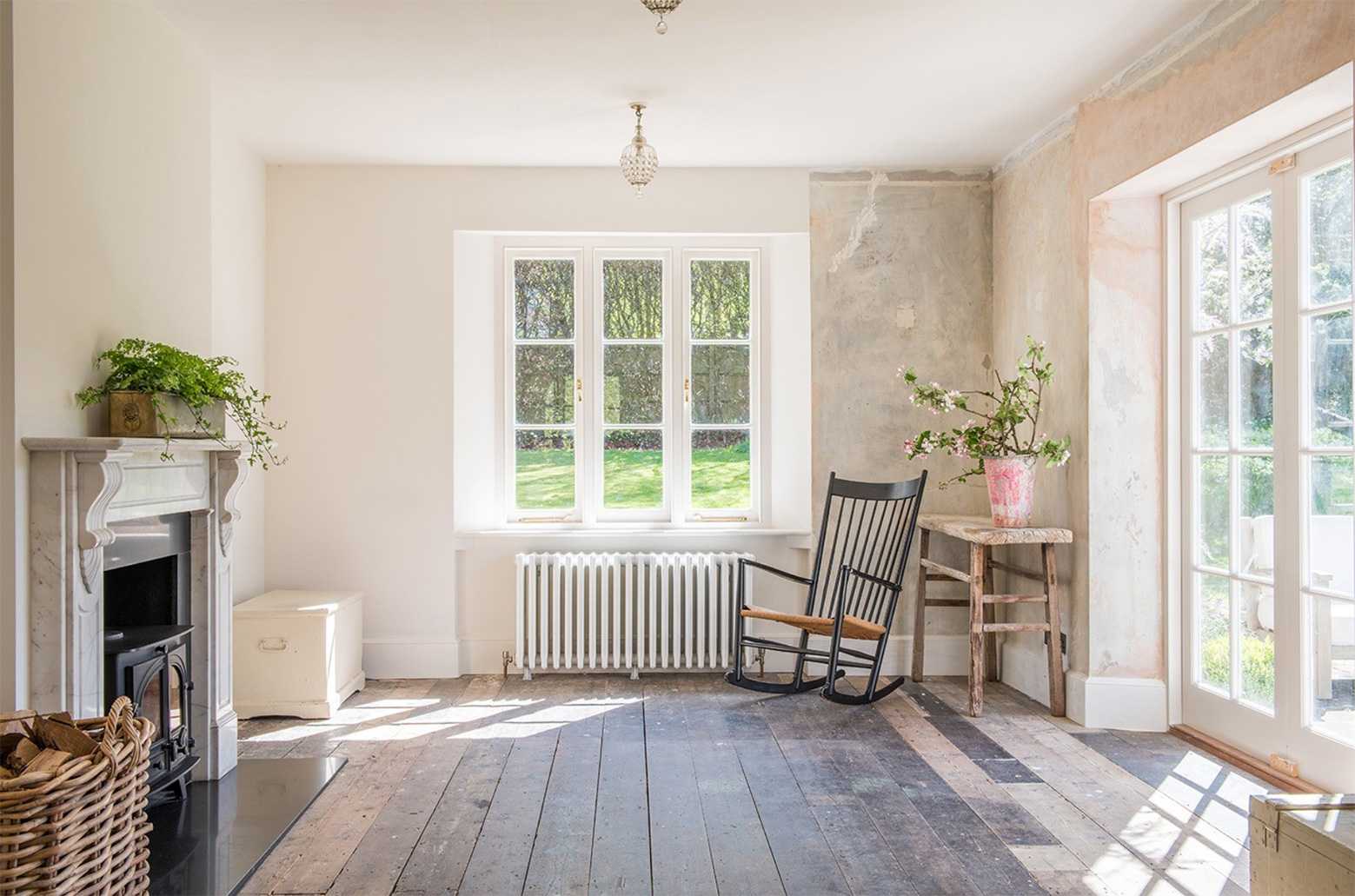 In the Spotlight: Modern Country Design
Long gone are the days when country design embodied dimly lit, dark farmhouses with ubiquitous amounts of knitted tea cosies, traditional florals and checkered prints. Country design has grown immeasurably over the last few decades, now not merely resigned just for country dwellers; the design style is now commonplace everywhere around the UK. Differing from the traditional interpretations, modern country design allows for playful and nuanced elements that are creating an idyllic classic. The key is to blend the old with the new – old-fashioned comfort brought into the modern world, creating a cosy feeling that celebrates the outdoors, without looking too kitschy. A successful country design will combine the best elements of rustic and vintage interiors, with warmth, personality, character and a hint of minimalism. Stay with us as we explore these features in more detail and how you can implement them within your own home.   
Use of wood and natural materials
You can't create a country home without incorporating wooden elements into your design! The idea is to introduce the organic, outdoorsy aesthetic that encompasses the entire style; think exposed beams, wooden panelling and wooden floorboards. Similarly, other natural materials that project the authentic country feel are stone, brick, slate or concrete. Nevertheless, if your property is lacking these elements, or your budget doesn't quite stretch, you can always use wallpaper or laminate flooring to achieve the effects. Other tricks to affordably accomplish the country vibe can be implemented through installing wooden barn doors, wooden furniture and accessories like wicker and rattan baskets, as well as linen upholstery and rugs made of organic materials. The devil is in the detail, so try to decorate with intricate wood carvings where possible – mix the old with the new and keep an eye out for lattice design windows, intricate wood carving, or old farmhouse tables with new dining chairs. 
Imperfection and informality 
Unlike most other design styles, scratches, scrapes, bumps and nocks are signs of age that are actually sought after and celebrated in modern country design. At the heart of the style is entertaining family and friends, therefore an informal design and layout is key; you do not want your space to feel overly constructed or laid out. In the same way that shabby chic likes its pieces on show to have had a life and tell a story, modern country design dictates that everything in your home shows its personality and character – not to look like it was made for that exact purpose. Kitchens are the hub of a country home and the soul of the kitchen is the kitchen table. A farmhouse kitchen table is a must for any home, the more character and history the better, keep reading for more detail on this later. If you can't afford to invest in a farmhouse table, drape a checked tablecloth over the table you already have for a cute, country design style hack at minimal cost. Bench seating is perfect for a farmhouse table, it's bang on trend and gives that informality you are after.
Practicality
Without many of the amenities the city provides, country living has always been about practicality. Nothing should be there for the sake of it. If you are looking to achieve the look, make sure there are no superficial trinkets or accessories on show. Accessories do have a place in the country home, however, the idea is to make sure they have a purpose and bring something to the room. Think: minimal fuss, no frills and nothing is too fancy to be used day-in-day-out. Larger furniture pieces that are ideal for a country home are armoires to store your linens and clothing and sizable traditional cabinets to display your crockery, pots, pans, and cooking utensils.
Warmth and cosiness
As it's well known, the weather in the countryside of the United Kingdom is hardly to be desired at the best of times – so creating a warm, cosy and inviting atmosphere has always been a must. Adding throws, blankets and warm rugs add depth and texture, whilst achieving that desired snug aesthetic. Classic motifs that are always a win in modern country homes are checkers, tartans and chunky knits. Colour is a great way to add warmth in a space; when it comes to accessories and soft furnishings, consider greens, navies, soft pinks and oranges, as they are perfect for creating that comfortable and intimate vibe.
Light and neutral colour scheme
Traditionally, country houses have been decorated with dark and moody colour schemes, with deep woods and brown palettes. However, for the modern aesthetic, you want to create a large and inviting space – achieved through light and airy hues. The aim is to create a neutral backdrop to showcase the more traditional pieces of furniture and accessories; this can be achieved through whitewashed woods, subtle shades of cream and lighter floorboards. When in the kitchen, greys and pale blues work great as they create a light, bright and friendly atmosphere to entertain your family and friends. Pastels are also a fantastic way to accent, as they give you that vibrant pop of colour, without swarming the space. Sage green, mint, dusky rose and taupe are all good choices for warming up a neutral space.
Pattern
In spite of the previous modicum of advice, suggesting a neutral colour scheme was the way to achieve a modern country aesthetic, a key component of the look is playful patterns that bring a fresh feeling to the space. Push the boat out and shy away from traditional motifs. Instead, put a modern twist on a floral pattern; perhaps enlarge it to look more contemporary or subtract the colour altogether and go for a monochrome adaptation. Geometric prints are very popular at the moment, implement on walls, floors or even as decoration for a boho twist. Brickwork and other linear designs are also simple but effective ways of adding depth and personality to your country home.
Bring the outdoors in 
As mentioned earlier, the modern country look is no longer grounded in the countryside. Whether you live in the heart of the countryside or the middle of a bustling city, bringing a touch of nature into your home will always add that authentic country feel. Not only does greenery help to add texture and depth to your home, there are multiple health benefits, including reduced stress, better productivity and improved mental health. Easy ways to add a touch of biophilia are potted succulents, herbs and hanging plants. For a more traditional look, decorate with scenes from the English countryside through artwork depicting rabbits, badgers and foxes – quintessential elements of the British countryside.
Authentic kitchens 
The kitchen is the life and soul of the country home, it's where the family gather everyday and because of this, it is the heart of this interior style. To create an authentic space with purpose, make sure there are no decorative items, but instead functional pieces that add to your home. Nothing should be delicate or precious – open shelving shelving units and hanging pots and utensils are great ways to introduce your character and personality to the space, whilst adding practical uses. If you can implement rustic elements like a butcher's block or chopping board, you will have the country look in no time.