BLOG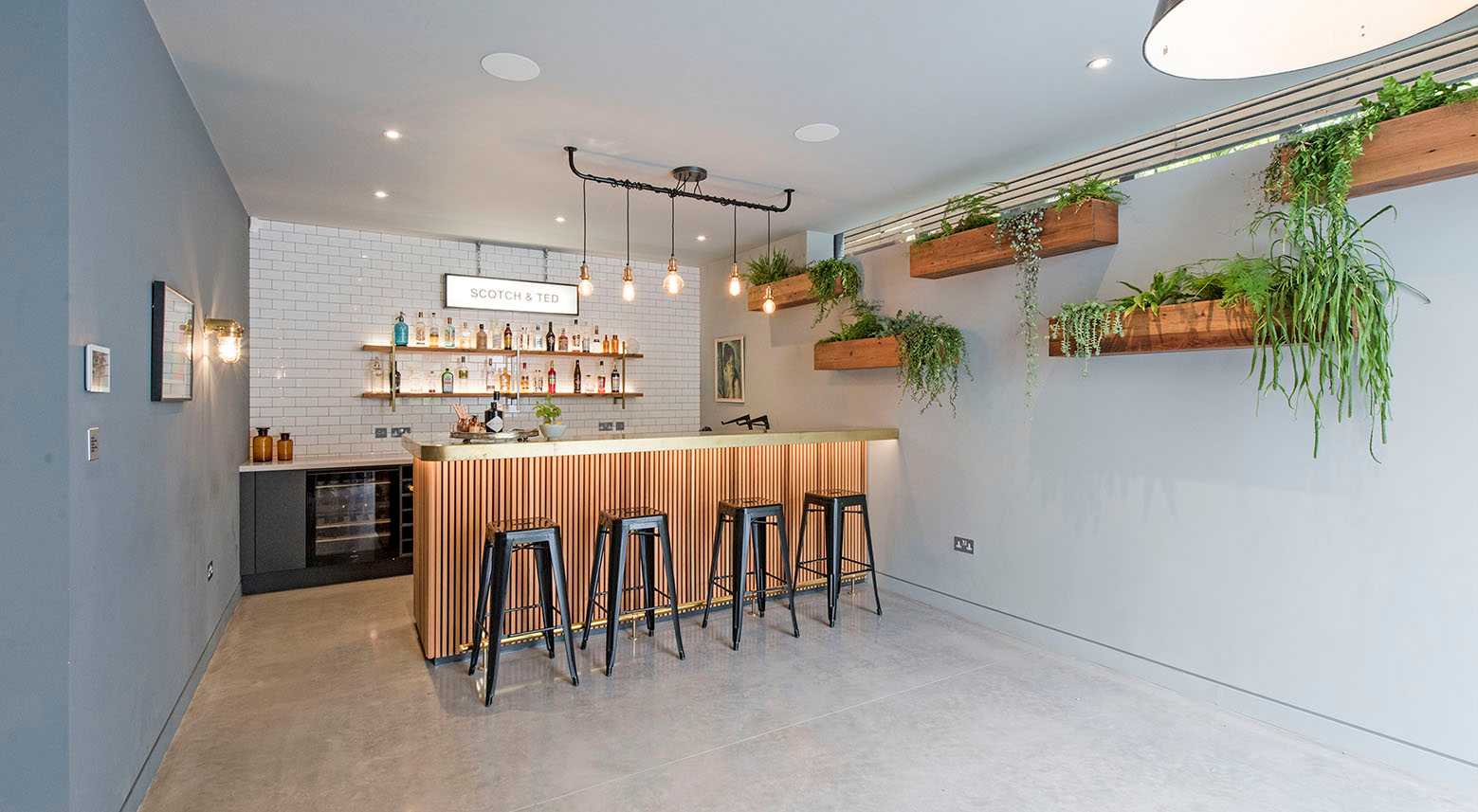 Is staying in the new going out?
With the cost of living crisis firmly taking hold and many people looking to economise as a result, it seems that more and more of us are thinking outside the box when it comes to entertainment and creating our own 'pub' experiences at home. On many levels this actually makes sense – when we go out it's usually to socialise with our friends, so why not invite them round instead and enjoy their company for a fraction of the cost of a big night out?
There are all kinds of different ways to create bars in your home, from the simple classic 'boat bar' that sits happily in the corner of a room, to a full-on pub re-creation complete with a proper bar, bar stools, neon signs, beer on tap and spirit dispensers. Ultimately, what you will probably be guided by most is available space, as not everyone will have a spare end of room, basement or garden building to utilise. Most home bars are at least 6 ft long, so it's a good idea to consider this when planning which area to use and having electrical sockets and plumbing nearby is also a consideration.
If you're thinking of taking the plunge, a few other things to consider will be finding space to store your supplies, buying a good selection of the various glass styles, a beer or wine fridge, bottle openers and cork screws, ice makers and buckets, cutting boards and peelers for your fruit additives, having a sink close by and choosing the types of drinks you'd like to have on offer. A good book on how to make inspiring cocktails could also be quite handy!
Once you decide to go ahead with building your very own bar, you'll probably want to have a good think about design, i.e. do you want it to blend seamlessly into the look of the rest of your house, do you want it to remind you of your favourite haunt or do you want to go completely over the top and make a real statement? 
Luckily, at 1st Option we're fortunate enough to represent a good selection of houses that have gone ahead and installed their own bars, so why not have a look at a selection of our favourites below for some brilliant inspiration…
Our first home bar can be found in Curious, which is a beautifully modernised shoot location in South West London. This is a great example of utilising basement space that might otherwise just end up as storage. The style of this room perfectly blends with the décor throughout the rest of the house and great care has been taken to make it modern and functional. The polished concrete floor works well in an area where there might be the occasional spillage plus the addition of subtle lighting and wall planting helps to give the space character. Note the fridge and wine rack at the back and the sink on the end to the right, plus plenty of electrical sockets on the wall.
Next on our list is Rooke, which is an ultra-modern shoot location on the River Thames in Oxfordshire. Off the main living area, the owners have created a striking home bar, with mirror-backed shelving, housing a truly impressive selection of drinks and back-lit in neon blue. Ultra-modern seating complements this area perfectly and the design style is an extension of the adjoining living area. Nearby, as an added extra, there is a circular glass opening in the floor which leads down spiral stairs to the liberally stocked wine cellar below, which probably comes in very handy when having your own bar!
Havana is a large 4 bedroom house in Beckenham, Kent, which has many quirky features, not least of which is its bar / nightclub in the basement! For this example, the owners have chosen to use bright and bold colours, giving it a Cuban tropical feel, hence the name. This dedicated bar area is well-stocked and has a distinctly playful feel, making it the perfect place to entertain friends. As if this wasn't already enough, the bar leads to an outdoor hot tub, making it the ultimate place to hang out and have fun.
Martini really is a shoot location like no other! This 1930's detached house is close to Willesden Green and is decorated in a completely unique way. As part of the huge kitchen / dining space, the owners have created a superb bar area that wouldn't look out of place in a chic drinking establishment. Using dark red walls, dark wooden flooring, subtle lighting and touches of gold, the overall effect is a complete success. The shelving behind the bar is back-lit and well stocked and it's easy to imagine that spending time hanging out here would be much more appealing than taking a trip to the local pub!
Next, we go south to Brighton where we find Phoenix, a detached 5 bedroom Victorian house close to the seafront. This home bar / nightclub is another basement addition and again has been designed with entertaining in mind. With a vintage feel, the furnishings are fun and quirky and even boast a disco ball and a dart board! The lighting is playful and colourful and the textured walls add warmth. This is another one of those spaces where you could easily imagine spending lots of time with friends.
Minton House is a delightful three storey Victorian end of terrace townhouse just outside Birmingham city centre. The house itself is full of surprises, colour and character but for this home bar the owners have chosen to use a building outside, that connects to the beautiful terrace and courtyard. This whole area is full of tropical plants and pops of colour and leads into the multi-coloured interior of the entertaining space. The bar itself has a distinct 'beach bar' feel and in conjunction with the rest of the outdoor space makes the perfect place for hanging out with friends, especially in the summer months.
Lace Apartment, in the East of London, is the epitome of the word 'eclectic', showcasing an array of quirky furniture and décor. This space has been set up to be a calm and relaxing dwelling and to that end the owner has pulled it off perfectly. This home bar is a great example of working to a budget yet still managing to create an area full of character. Although quite a simple set up compared to most that we've already seen, it's still very effective and certainly does the job. Evenings around this drinks dispenser would probably be a more chilled-out affair, but for some people that would be the perfect choice.
Last, but not least, is the afore-mentioned boat bar! When you approach the beautiful location property that we call Tulum, although being a Victorian property, thanks to the blue shutters on the outside windows which are original to the house you'll find a distinct 'Colonial' feel. Inside, although staying true to its Victorian heritage, the owners demonstrate a unique design style, with brightly coloured furniture, vivid wallpaper and an abundance of plant life. Their home bar choice is the boat bar and these pictures show that one of the benefits of this is that you can move it around and place it in whichever room you'd like to entertain.
So there's a lot of inspiration here if you're thinking you might like to set up your own entertainment space. The only limitations are finding a suitable space, budget and of course your imagination. We hope seeing examples of what others have done will help to inspire you, and if you do decide to take the plunge we'd love to see the end results!