BLOG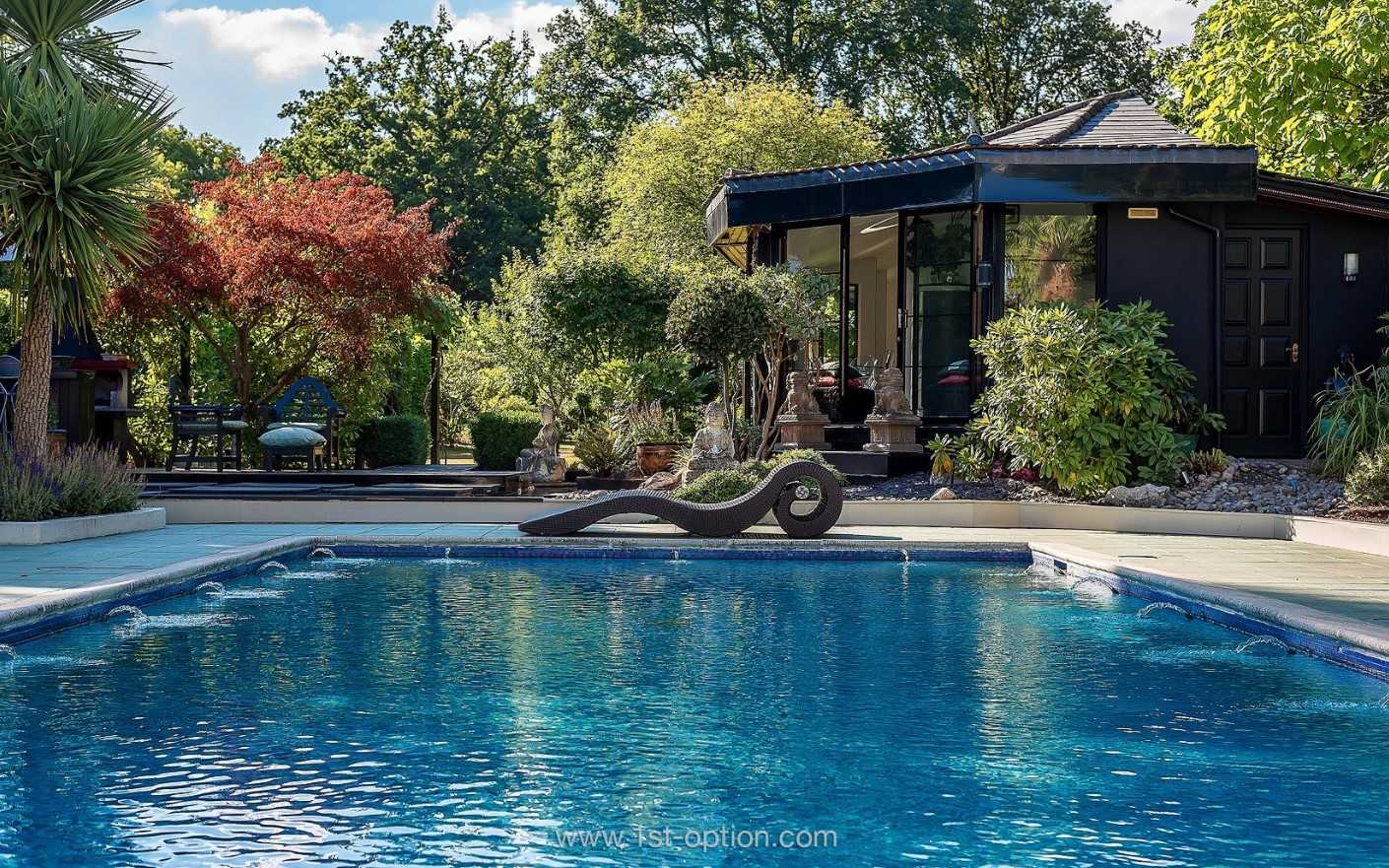 Scintillating Swimming Pools – 5 of the Best
With summer slowly leaving us for yet another year, the last couple of weeks of sunshine have left us dreaming of a few more weeks of sun before the long winter inevitably takes hold. Because of this, it got us looking back at our properties that feature swimming pools, hoping for one last day to be able to use them. Whether you've finished shooting for summer campaigns already and are perhaps looking forward to next year, or are still playing catchup due to the lockdown that stopped the nation from working for 3+ months, there is never a bad time to take a look at some of the best locations that feature swimming pools in London and the surrounding areas (especially while it's actually still sunny out). 
Ambleside 
First up is Ambleside, as you can't realistically write an article on swimming pools without featuring this beautiful garden. This large, modern and unique photoshoot location really does have it all, offering tons of striking features inside like marble flooring, huge windows that offer an abundance of natural light and monochromatic colour tones, however it is outside that really bowls you over. Most of the garden is finished with Oriental stylings that perfectly juxtapose with a huge outdoor pool that could be more at home in LA than the Orient. 
Cavendish Place 
Speaking of Asian inspired gardens that can't be left of this list, we give you Cavendish Place. This Earls Court shoot location really is one of kind and you can see why it has been so popular for so long. Featuring some unique and quirky interiors, again it is the outside that steals the show. The garden itself offers up an array of different landscapes, giving that much needed flexibility for shoots, however, again the pool is the centerpiece of the show, making waves front and centre. With a whole host of asian ornaments decorating the surrounding areas of the pool, Cavendish Place gives off an aura that could be perfectly placed in Thailand or Bali. 
Graphite 
3rd on our list, and hanging out here you'll really be feeling like one of your favourite superstars. Our first indoor pool comes from Graphite, a fantastically modern shoot location in Kingston-Upon-Thames. Featuring a unique and eye-catching pentagonal shaped pool, Graphite offers wall to wall views of their beautiful landscaped garden, an adjoining games room and gym and a gorgeous stone brick wall that offers the perfect backdrop for shoots. 
Capri 
Capri is a villa style family home that you probably wouldn't believe is actually situated in Wandsworth, not Italy. The large heated outdoor swimming pool gives off an unashamable aesthetic of lounging by the pool on a hot summer's afternoon in Italy, before heading down to the local village to pick up your bits for dinner. Decorated all around with a beautiful array of flora, Capri will have you itching to go on holiday at any time of year. 
Woodhaven 
The aptly named Woodhaven is last on our list of the best pools you're likely to find in London and the surrounding areas. With wooden furnishings quite literally running throughout the entirety of the property, the Surrey based location offers a very modern and polished take on the New England design style that is so popular around the world. When we say wood runs throughout the property, we're not joking. The pool is even decked out with many wooden panels including on the roof and on the lavish hot tub that sits at one end. The space also benefits from tons of natural light that really elevates the luxurious aesthetic brought forward by the wooden panelling. A set of elegant tables and chairs and some well placed plants also add to the opulent character the property gives off. Due to the indoor nature of the pool, Woodhaven is perfect for a pool shoot all year round and is available now!